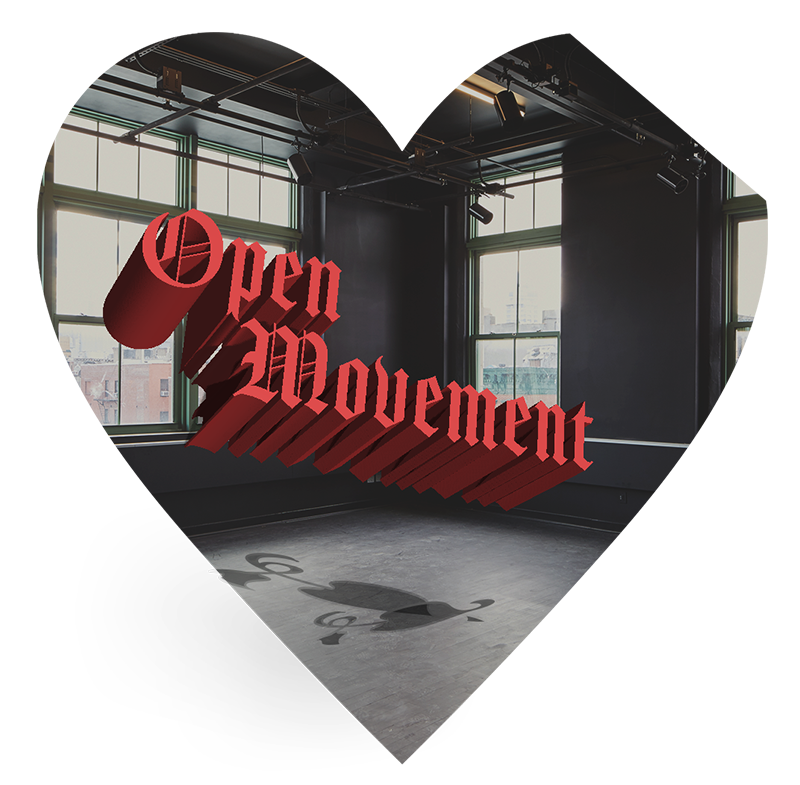 The Keith Haring Theatre
January 8 - May 21

Open Movement offers free weekly movement improvisations and artist-led workshops in Performance Space's theatres. Participants are invited to move to curated soundscapes by various artists and musicians together but in no particular way, every Sunday from 12-4pm. At 4pm we will shift to Open Movement Workshops where various artists share their self-proclaimed practices of embodiment, dance, and performance exploration.

In its second year, we are working with artists who are interested in the role embodiment can play in the process of healing. Artists will build these practices over a series of three workshops or in one-off emerging practice forms, offering the opportunity for the artists and participants to evolve their practice over time. The workshops inform the improvisation and vice versa as we build on ways of regulating the nervous system and expanding what it means to process information in the body. Once a month a dj or musician will be invited to play live for open improvisation. *No dance experience of any kind is necessary nor is it necessary to attend every class in a series. But you're welcome to!

Theatres are located on the 4th floor with elevator access, gender-neutral restrooms, and a sprung floor equipped with a house sound system.

Open Movement is a revival of the eponymous program that started in 1979 and was at the foundational and collectivizing core of Performance Space 122 (now Performance Space New York).

Open Movement is facilitated by Monica Mirabile and Ana Beatriz Sepúlveda, with workshops and musicians organized by Monica Mirabile. For any questions, Monica can be reached at monica@performancespacenewyork.org. Visitors are encouraged to take a look at Open Movement's Community Guidelines.



*Donations are welcomed for artist-led workshops.