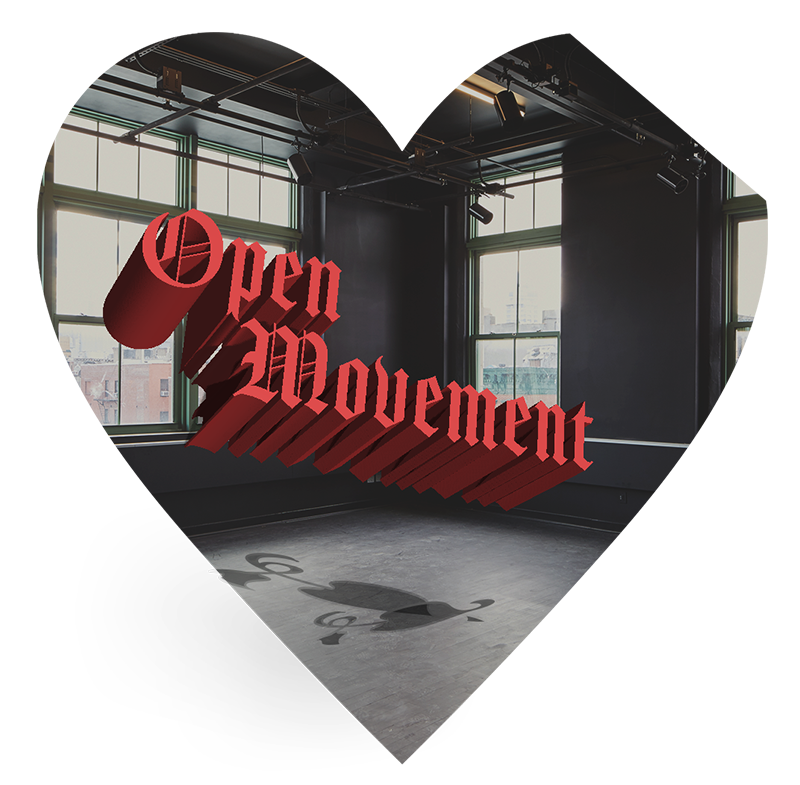 Keith Haring Theatre
October 1 - December 17
Check Out The Schedule!

In its third season, Open Movement is continuing its open format of carving out space for free shared studio time and Artist led movement workshops every Sunday in Performance Space New York's theaters. This season's Open Movement exists in 3 parts:

First, come move your body however you like at Open Movement Studio. There will be music playing, lights will be contributing to the atmosphere and you can come and go as you please. This is a shared studio where people stretch, draw, write, lay on the floor, noodle, dance and rehearse with others and by themselves. Bring friends and family, make friends and family. This is an opportunity to be grounded in your body and just feel. Many participants refer to this as "church".

In the second part of Sunday at 4pm, participate in movement concept WORKSHOPS led by artists and practitioners. These workshops have something different to offer every week as each artist or practitioner shares a two hour participatory practice, exploration or sequence of actions. Some lend themselves to performance ethos of shared practices as others ground in wellness ontologies while others are experiments in the human condition. All are of the body and within community.

This year, sprinkled in is a call for experimentation and poetic sentiment around the body's relationship to science as it merges with the mystical or spiritual. Open to broad interpretation, the Open Movement ethos is expansive and can go beyond the typical practices of "dance". Check the schedule and Instagram every week for specific details.

The third part of Open Movement is the new, WIP FEEDBACK FRONT. This is a showcasing of artist works in progress. Throughout the year we will have five events where 2 artists or artist groups will show us what they are working on. This is a performance event with wine and drinks served in a casual atmosphere. Built within the event is an opportunity to write feedback for the artists anonymously if you choose. WIP FEEDBACK FRONT is an opportunity for New York artists and audience members to witness and experiment with the living experience of performance in its broadest form.

All of this is meant for all people, "non-dancers" welcome. A major component of the ethos is to utilize empty space for people to reconnect, ground and expand within themselves and with others, wherever we are at the moment.